Press Controls Add Capacity
A new NST press from Dayton, OH, U.S.-based AIDA helps Empire Comfort Systems keep up with the rapid growth of Empire's outdoor cooking, space heating, and fireplace product lines.
From a small sheet metal shop that opened in 1911, Empire Comfort Systems Inc. has become a household name with the most diverse line of gas space heating products in the world. Equally well known for its fireplace and Superb outdoor cooking products and Broilmaster premium grills, Empire is charging ahead with a substantial growth rate of more than 20 percent annually over the last 3 years. Not surprisingly, ongoing support of its core business and new product introductions demanded additional press capacity. Empire found a flexible solution in AIDA's tie-rod straight-side NST 300-ton press designed specifically for general purpose and utility work.

Averaging eight to 10 new product introductions a year since 2000, Empire, based in Belleville, IL, U.S., recently acquired the Broilmaster Grill line. "We've experienced a phenomenal number of new product offerings over the last few years," confirms Don Ried, manufacturing engineer for Empire. With gas heating products as its core business, Empire has also experienced rapid growth in its fireplace line, which is anchored by the company's patented glass-filled fireplace gas burner. The product is said to significantly reduce the size of the burner unit and provide the most realistic flame pattern found in the hearth products industry.

"The challenge we faced was that we had several large progressive dies which could only be used on one 300-ton press," Mr. Ried explains. "In addition to supporting production goals for our core business and our fireplace burner line, we had initiated lean manufacturing processes that would allow our company to meet customer requirements in a matter of days instead of weeks. With just one press able to handle the large dies, we knew if we experienced a breakdown, we would be facing a serious work stoppage with a downtime of two to three weeks."

Aside from additional press capacity, Empire was looking for press that had 60- by 120-in working area. "AIDA's NST solved our capacity issues," says Mr. Ried. Empire installed the NST in 2001 as a stand-alone system that incorporates a Cooper Weymouth Peterson coil handling and servo feed system. The NST produces parts for Empire's Broilmaster gas grills and components for its fireplace and log set burners using materials ranging from type 304 to 430 stainless steel, CRS, galvannealed steel, and hot-dipped galvanized. Empire is introducing several new heater models this year and plans to use the NST for future parts production for those new models.

With the demands of lean, smaller lot sizes combined with quick die changeovers and Empire's need for reliability, the company had some initial concerns about placing its dependence on a new press design."We were willing to take a hard look at AIDA's NST for two reasons," Mr. Ried explains. "We had a track record of experience with a 165-ton AIDA gap press installed in 1982. The AIDA gap press has run for 20 years with minimal downtime. We've rebuilt the feed system twice, but never performed any work other than normal maintenance to the press. Secondly, our concerns were completely eliminated when we were briefed on how the NST was being manufactured."

Designed at AIDA's North American headquarters, the NST was also machined and assembled at the company's manufacturing facility in Dayton, OH. "The machine's design was impressive," Mr. Ried says. "AIDA took a lot of the features from its top-of-the-line stamping equipment like its PMX, and implemented them into the NST, minus the added cost. That meant we got a lot more bang for our buck."

For Empire, press rigidity and the ability to meet tolerances are essential ingredients to the consistent high quality of the products the company produces. "For our quality goals, one of the best things AIDA did aside from the NST's rigid construction was to take the ball and socket arrangement from its PMX and build it into the NST," explains Mr. Ried. "AIDA's ball-type slide connection results in reduced clearance and maintenance. The NST's pre-loaded roller slide guiding, another design item typically found on more expensive presses, improves die life and part quality. A high-energy drive is included for work being done higher in the press stroke."

The NST is also equipped with AIDA's patented Hydraulic Overload Protection system (HOLP), which is said to operate 7 to 10 times faster than other systems currently available on the market. The slide connection itself is configured to operate as a high speed valve, eliminating pressure relief valves and large hydraulic flow systems found on older design presses with a wrist pin and saddle bushing connections. As a result, die and press components are reportedly protected beyond the level provided by conventional presses.

The NST currently operates 8 to 12 hr a day, 5days a week and produces lot sizes of 1,000 to 10,000 parts for a total of about 40,000 parts per month. Empire expects production to increase up to 100,000 parts per month, depending on its season-driven production cycles.

Re-engineering current dies to the new press, Empire is also using some brand new tooling. "We've found that the quality of parts produced by the NST, which require tolerances as close as+/-0.007, is very high," notes Mr. Ried. "It is easily the quietest machine we have in the plant and probably the cleanest. Most decent-sized presses have oil that is constantly dripping everywhere you don't see that with the NST."

For Empire, the NST'swide profile allows for easy access to tooling and ancillary equipment being used for a particular setup. "Press set-up is also easy," Mr. Ried adds. "Unlike our other presses, the NST displays full diagnostic capabilities on a user-friendly control panel with touch screen. In most cases, our operators are able to solve problems without waiting for maintenance. We found that our learning curve was reduced to less than two days for a machine and control system our operators had never been exposed to."

AIDA's NST also makes it possible for personnel to access all vital mechanical, electrical, and pneumatic systems with minimal effort. "One of the biggest complaints our maintenance personnel have had in the past is that they always had to move or remove items to conduct parts maintenance or address a problem," Mr. Ried explains. "The NST, by its very design, allows for quick parts maintenance, a critical element in sustaining a lean manufacturing environment."

AIDA's NST will also play a role in Empire's plans to begin marketing itself as a contract stamper for the appliance, outdoor equipment,Horne product, and general utility markets. With nearly a century of experience, Empire's goal is to maintain its industry lead through a combination of quality, innovation, and flexibility. More importantly, the company will continue to put the pieces in place to serve the needs of its customers.
Your Trusted Partner in Metal Stamping
Since its inception, DMS has helped manufacturing facilities streamline their metal handling operations through the strategic implementation of precision capital equipment, including, Metal Stamping Presses, Modular Transfer Systems, Coil Handling and Press Feeders, Press Controls and Safety Equipment, Sheet Metal Lubrication Equipment, Conveying Equipment and More!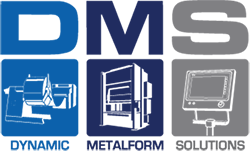 However, before anything gets purchased or installed, we make sure that we know the full scope of your application. We also take the time to learn about your 'pain points', asking questions related to use cost, budget, past experiences with competitive lines, and plant context. This helps to give us a bigger picture, so that we know exactly how to best address your metal forming and stamping needs.
Thanks, we will contact you soon
Use the options below to find the right equipment for you.
You need to select an item to continue
Would you like to fill in the application details (roughly 5 minutes) or skip and schedule to speak to a professional?
You need to select an item to continue
Optional Equipment
(Please check all that apply)
You need to select an item to continue
Punch Press Controls & Press Safety Guarding
You need to select an item to continue
Coil Handling and Press Feeding Equipment
Select the types of Feeding equipment you require
You need to select an item to continue
Quick Die Change Equipment
Select type of QDC Equipment
You need to select an item to continue
Machine Repair Or Other Services
What do you require?
You need to select an item to continue
Our knowledgeable team is standing by to help you find solutions.