Your Trusted Partner in Metal Stamping
Since its inception, DMS has helped manufacturing facilities streamline their metal handling operations through the strategic implementation of precision capital equipment, including, Metal Stamping Presses, Modular Transfer Systems, Coil Handling and Press Feeders, Press Controls and Safety Equipment, Sheet Metal Lubrication Equipment, Conveying Equipment and More!
However, before anything gets purchased or installed, we make sure that we know the full scope of your application. We also take the time to learn about your 'pain points', asking questions related to use cost, budget, past experiences with competitive lines, and plant context. This helps to give us a bigger picture, so that we know exactly how to best address your metal forming and stamping needs.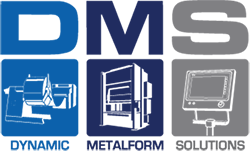 Thanks, we will contact you soon
Use the options below to find the right equipment for you.
You need to select an item to continue
Would you like to fill in the application details (roughly 5 minutes) or skip and schedule to speak to a professional?
You need to select an item to continue
Optional Equipment
(Please check all that apply)
You need to select an item to continue
Punch Press Controls & Press Safety Guarding
You need to select an item to continue
Coil Handling and Press Feeding Equipment
Select the types of Feeding equipment you require
You need to select an item to continue
Quick Die Change Equipment
Select type of QDC Equipment
You need to select an item to continue
Machine Repair Or Other Services
What do you require?
You need to select an item to continue
Our knowledgeable team is standing by to help you find solutions.
Stamtec has provided dependable, competitively-priced metal stamping presses to the North American market for thirty years, and worldwide for over six decades.
Click here for details
Link Systems provides a varied selection of press control and safety devices, including Black Max infrared safety light curtains.
Click here for details
Versatile solutions include blank de-stackers, feeders, in press and press to press transferring equipment. All are designed to bring efficiency and cost savings to your production systems.
Click here for details
Our products include both air feeds and servo feeds, pull-thru and powered straighteners, single and double end coil reels, load cars, coil cradles, threading tables, coil threading/restricting devices plus a host of other options.
Click here for details
QDC systems speed up production, keep presses running, and make die changes simple and efficient. Both off the shelf and custom solutions are available to make your application a success.
Click here for details
Providing standard and custom conveying solutions to manufacturing and material handling industries including automotive, metal stamping, tool die, machine tool, fastener, forging, die-cast, appliance, metal working, and plastics industries throughout the U.S., Canada, Mexico.
Click here for details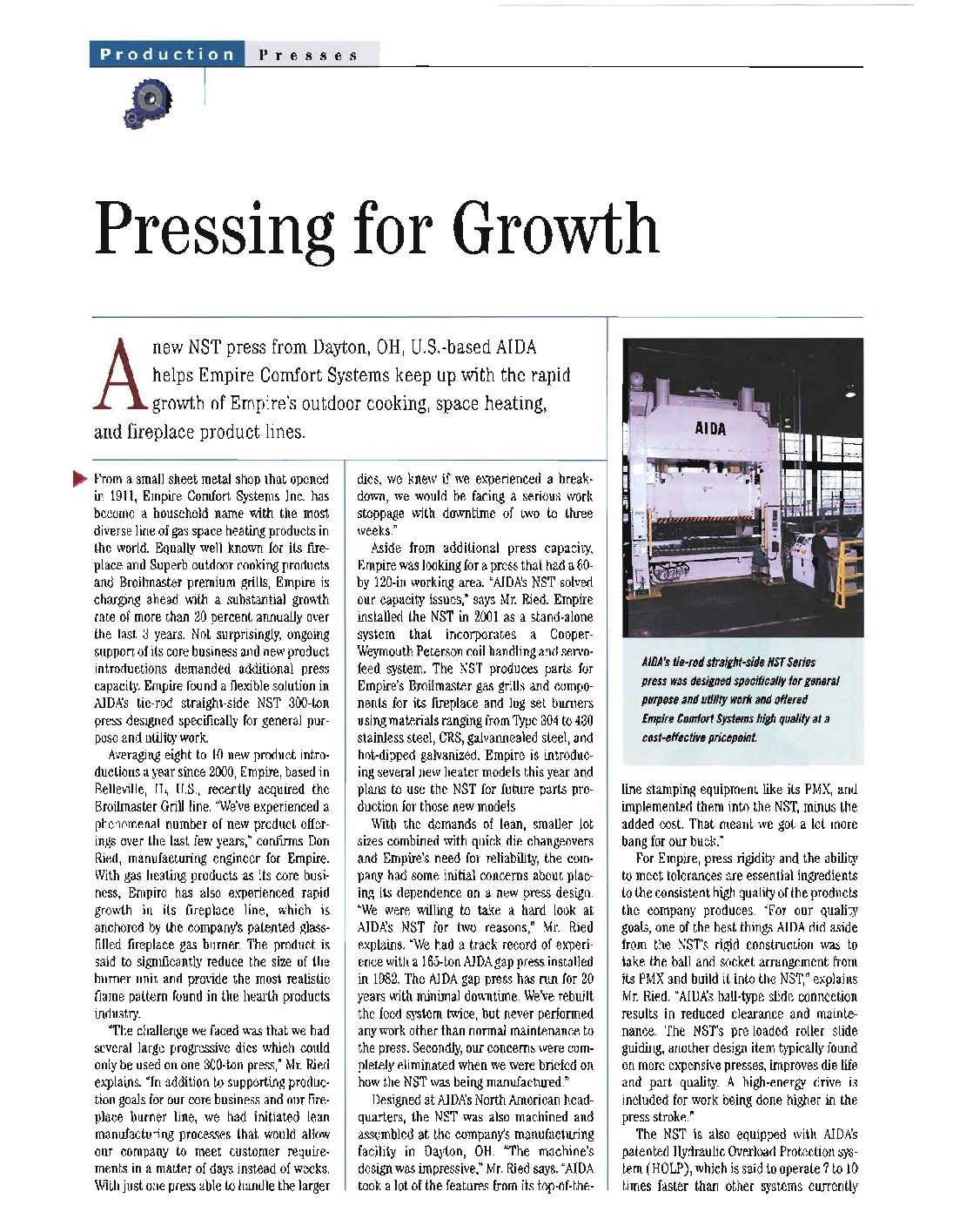 AIDA - Pressing for Growth
A new NST press from Dayton, OH, U.S.-based AIDA helps Empire Comfort Systems keep upwith the...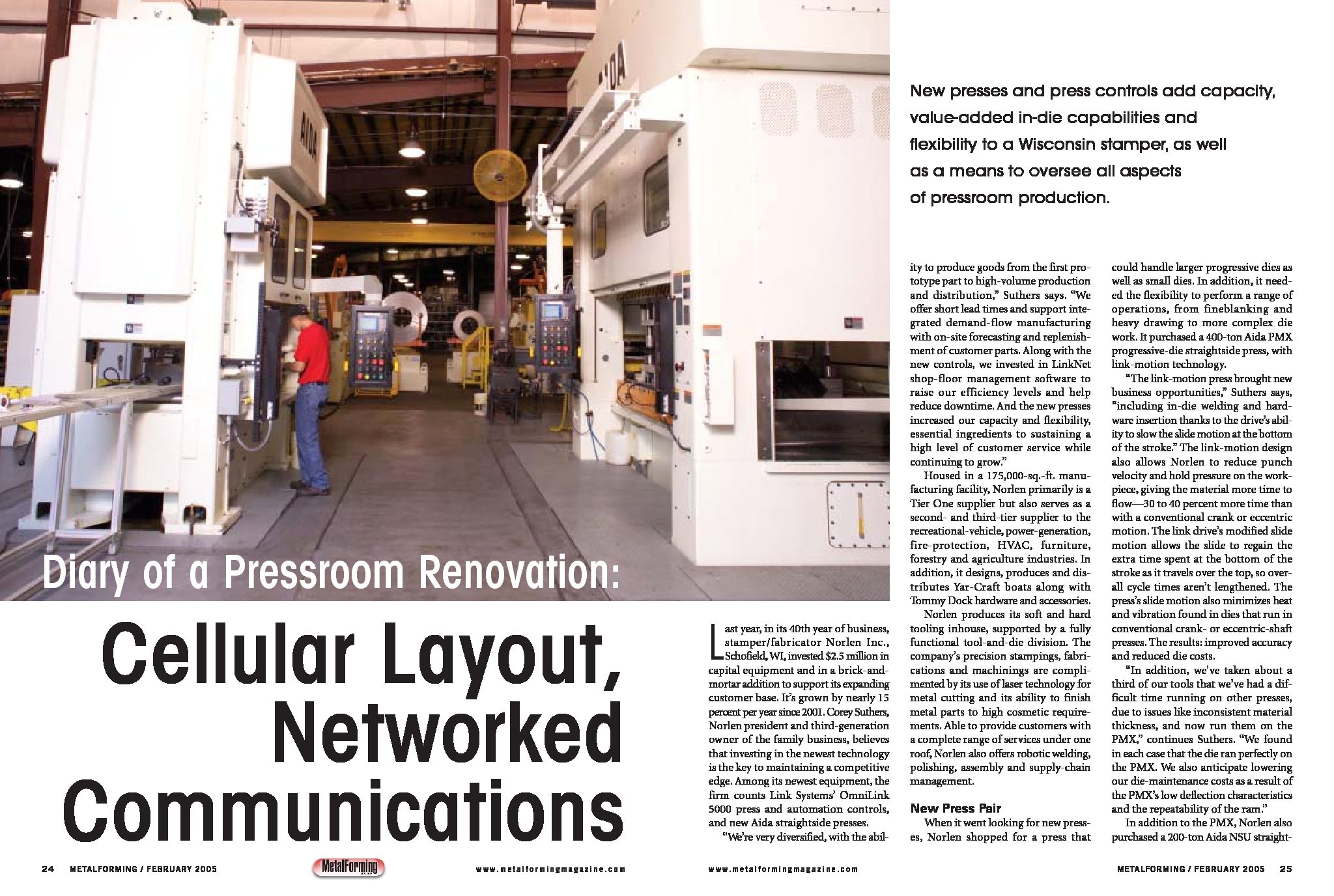 Press controls add capacity
New presses and press controls add capacity, value-added in-die capabilities and flexibility to a Wisconsin stamper...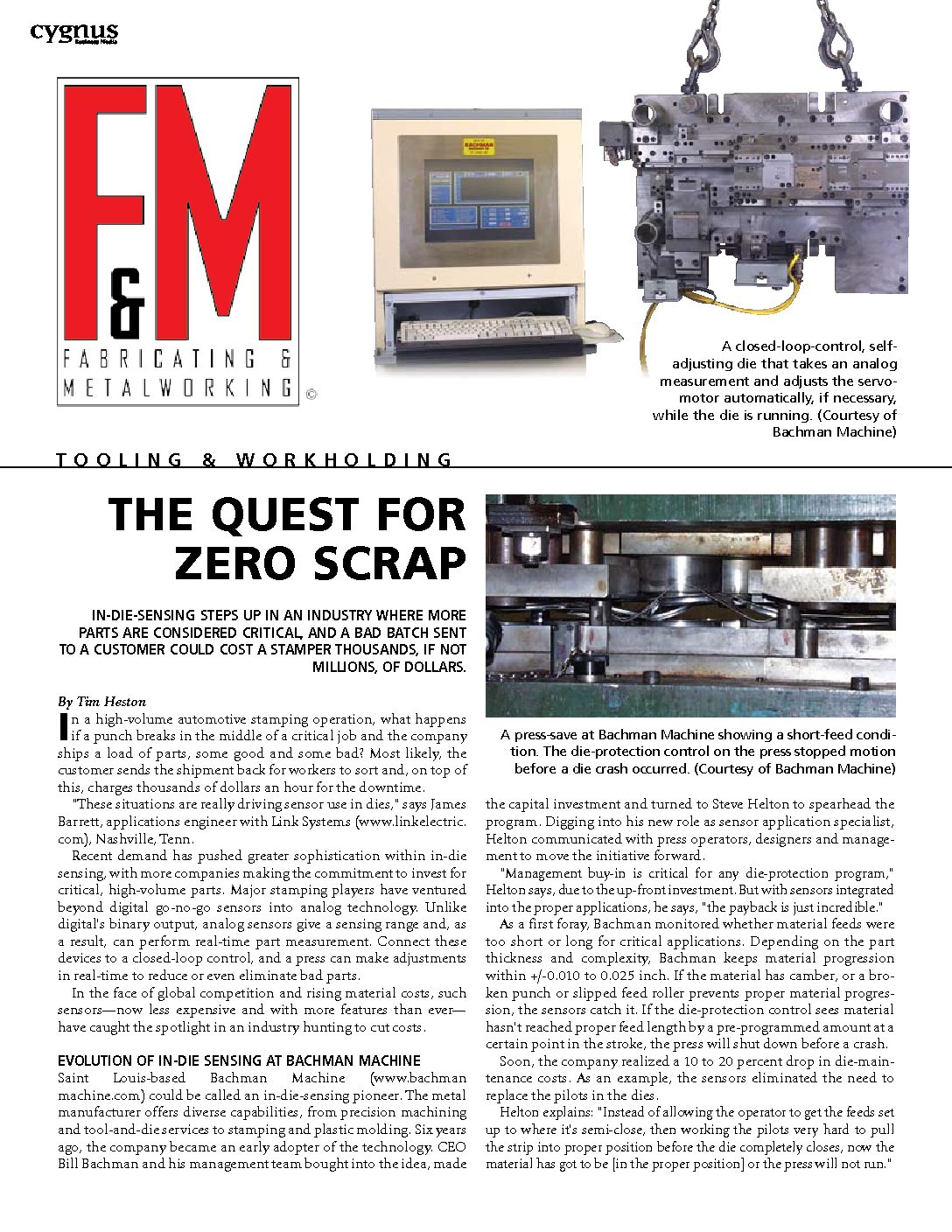 The Quest for Zero Scrap
In-Die-Sensing steps up in an industry where more parts are considered critical...