At Dallas, we have 30+ years of servo feed design and manufacturing experience… and we continue to innovate. Each model of servo feed from Dallas has a pivoting upper roll lift for better gear mesh and even roll pressure, greasable roller bearings for maximum durability and comes with our exclusive 
ProfileSelect
 software that minimizes stress and jerk.
Dallas servo feeds are available in models from 6 to 84 inches wide with material thickness capacities from .010 up to .750 and speeds up to 300 strokes per minute. Additional standard mechanical features include cluster gear driven upper rolls, pneumatic pilot release, heavy duty entry support roll assemblies with overhead trap rolls, AC brushless servo motors coupled to precision gear boxes, matte finished chrome feed rolls, and adjustable entry edge guides.  Our 
servo feed controls
 include numerous standard features, along with options such as 
zig-zag
 motion, gag feeding and dual axis (push-pull) controls.
Widths from 6" to 36"
Solid, matte chrome surfaced rolls for superior grip
Pneumatic roll lift and pilot release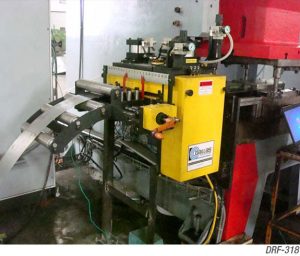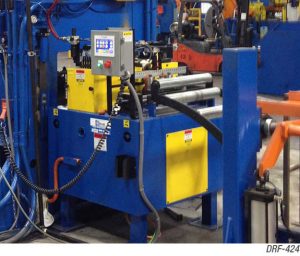 Widths from 12" to 48"
Dual cylinder pneumatic roll lift and pilot release
Adjustable height cabinet
Widths from 12" to 84"
Massive side plates with cartridge flange bearings
Adjustable height cabinet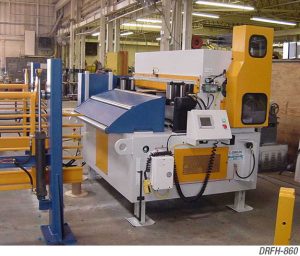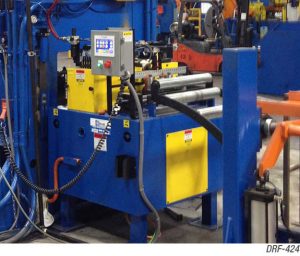 Zig-Zag feeds provide a great way to minimize material scrap when running circle blanks. Dallas' reputation as a leader in zig zag feed technology is well-earned…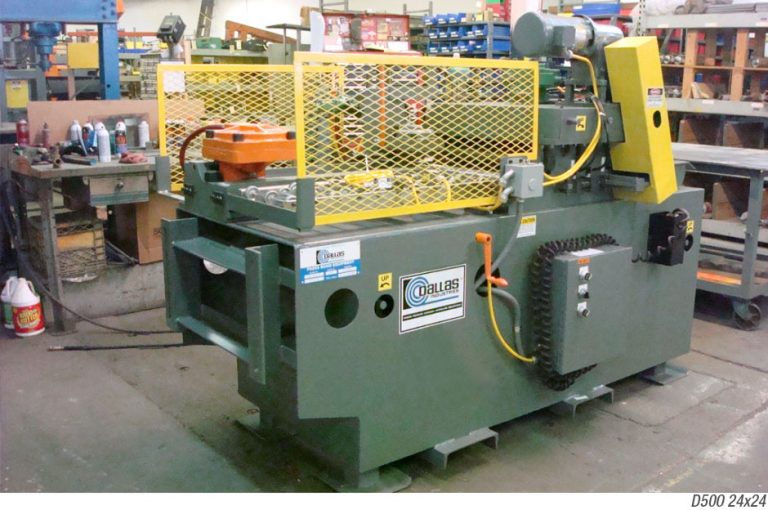 Dallas air feeds are available in 6 different models with capacities for standard and heavy-duty press feed requirements. Dallas air feeds will handle material widths up to 84" and run .010" to .500" material thickness.
WITH PULL-THRU STRAIGHTENERS
Dallas servo feeds with pull-thru straighteners are engineered, built and have the power to easily handle materials up to 0.500 inch thick and widths from 6 up to 84 inches. They are best utilized in progressive die and transfer-type stamping operations. The close proximity of the straightener to the press tooling facilitates rapid flatness correction of coil stock as it is being processed. Pull-thru straighteners are available in 5, 7, 9, and 11 roll versions with roll diameters from 2 ¼" to 5". Additional features can include LCD readouts, powered and air operated pinch rolls, automatic disengage clutch, chrome and polished rolls and even a pivoting straightening head for true pilot release.
This photo shows a cabinet mounted servo feed with pull thru straightener. This compact and affordable design is ideal for progressive die applications as it is equipped with our piloting……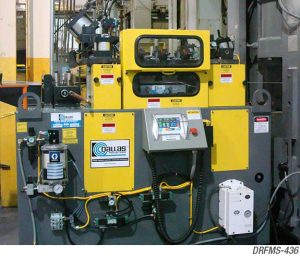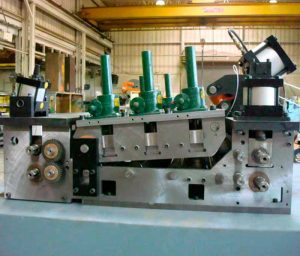 To add even more versatility to a servo feed with pull thru straightener, consider adding our unique Piloting Head Straightener….
Dallas Powered Straighteners have a reputation for durability and running the most demanding materials while meeting and often exceeding material flatness requirements. Standard features include gear driven and individually adjustable straightening rolls, separate and larger cluster gear driven entry and exit pinch rolls, heavy side plates, bearings with inner and outer races, hardened rolls, heavy beveled gear or jack-type adjustment. Dallas drive packages include AC vector drives with controls that can be 
synchronized with the feed for advanced slack loop control
. Depending on the application, a number of features/options can be supplied including: matte or smooth chrome finished pinch rolls, high flight back-up rolls, 
AutoSet
 automation package, and easy access opening for straightener roll cleaning.
Two straightener model available – DPS-2.25 & DPS-3.0
Widths from 6" to 48"
All rolls are solid (not tubing)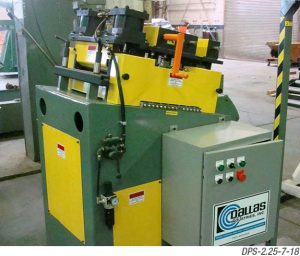 Three straightener roll diameters available – DPS-3.5, DPS-4.2 & DPS-5.0
Widths from 12" to 84"
Available Hi-Flight backup rolls for maximum
Dallas engineers a wide variety of reel sizes and configurations to meet your current requirements as well as future needs. With coil weight capacities ranging from 1,500 to 60,000 lb. in stock width capacities from 12 to 84 in. wide, we have you covered. Reels can be manufactured as either motorized (AC drive) or pull-off (drag brake) depending on which is best suited for your application.  Dallas reels are built with superb quality that includes the use of pillow-block bearings, heavy-duty cabinets, and only well-known brand names of supplied components.  Standard features on our reel include wedge or link type expansion, manual or hydraulic expansion (and/or hydraulic threading drives), coil keepers and loop controls. Options include various loop controls (laser, photo electric, etc.), brakes designs including failsafe designs, hold down coil restrictors, and load cars.
Widths to 84" wide
Coil Weights to 60,000 Lbs.
Manual and hydraulic mandrel expansion available, depending on size of reel.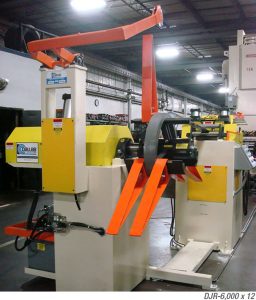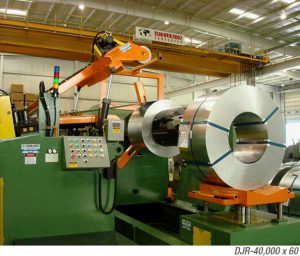 Ideal for simple loading and unloading of coils
Load car has either 18" or 24" of lift
Options for the load car includes narrow coil supports, remote pendant, auto coil centering and integrated coil upender.
Widths to 60" wide (consult factory for wider)
Coil Weights to 20,000 Lbs.
Manual and hydraulic mandrel expansion available, depending on size of reel.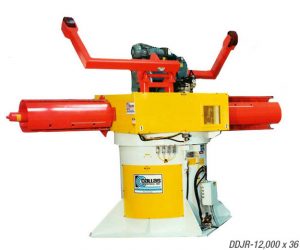 Dallas coil cradle capacities range from 4,000 to 50,000 lbs. and come standard with heavy-duty cabinets and side plates built to stand up to your toughest jobs. Features include full width powered nest rolls, adjustable side plates, AC variable speed drives, and cluster geared pinch rolls. Both pinch rolls and nest rolls are powered from a common cradle drive. Optional overhead, enclosed loop deflectors and guide-chutes direct the flow of the material and provide easy loading. Powered straighteners can be added to this configuration. Alternatively, cradle/straightener combo units (slack loop in front) are also available.
Cradle/Straightener Combo – This design combines the cradle and powered straightener into a single piece……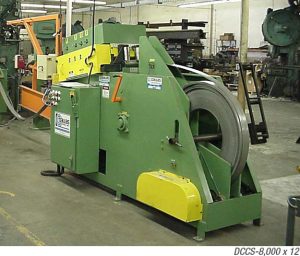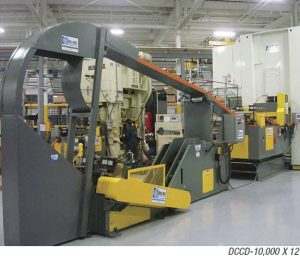 Cradle with Overhead Deflector – this is a common configuration for a cradle line.  The coil is driven via the cradle nest rolls….