Extra-long, box-type centered gibs guide the slide during the working portion of the stroke. The design of this mechanical stamping machine provides full control of left-to-right and front-to-back slide alignment.
Heavy, one-piece welded steel frame is fully stress relieved and designed to resist deflection, providing more accurate stampings and longer die life.
Fast-response hydraulic overload relieves the pressure of a tonnage overload in milliseconds, stopping the press immediately and protecting press and dies from damage.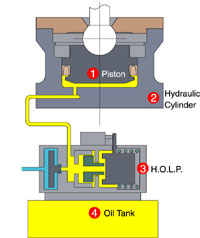 Wet clutch and brake
Flywheel brake
Hydraulic overload system
Air counterbalance system
Automatic lubrication system
Digital die height indicator 
Removable, flanged, T-slotted slide plate and bolster
Motorized slide adjustment
Press control with:

Six programmable limit switches
Four programmable die monitor inputs
Six-digit part and batch counters
LCD display screen for status and fault messages
LED display for crank angle and spm
Interlocked die safety block
Link motion drive technology
Press controls from industry leaders like Wintriss, Link, Helm (Allen-Bradley), Toledo (Allen-Bradley), Siemens, Mitsubishi, etc.
Anti-vibration press leveling mounts 
Safety light curtains
Tonnage monitor
Quick die change system
Die cushion
Knockout bar
Compact servo feed line
Frame
Flywheel
Pinion shaft
Wet clutch and brake
Main gear
Crankshaft
Counterbalance
Connection
Adjusting screw
Hydraulic overload chamber
Slide
Slide plate (detachable)
Bolster