CUSTOME MADE BLANKING LINES FROM AIDA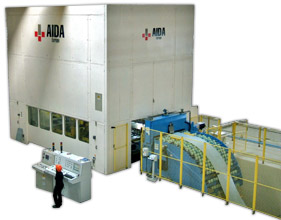 AIDA Blanking Press Lines
 are available in several models and configurations. Featuring either eccentric or link motion and numerous options and accessories, 
AIDA Blanking Press Lines
 can be configured for multiple types of applications. AIDA works closely with our customers to design a complete metalforming solution that meets the requirements of the press, ancillary equipment, material handling, as well as delivery schedule, installation, and any required After Market Solutions, such as parts and routine maintenance.
Features & Benefits
Eccentric Drive
Eccentric Gear Execution
Welded Frame (According to size)
Fixed Pin
Integrated Temperature Monitoring System (Option)
High Stiffness
Low Number of Parts
High Reliability
High Con-rod Length / Crank Ratio
Link Drive
High Stiffness
Lower Working Speed
In Line Configuration at BDC
High productivity
The kinematics, carried out by link-drive system, permits to work at low and constant speeds during the drawing phase and at higher speeds during the idle stroke of the slide, as well as during the back-up motion of the slide up to the T.D.C. These speed variations are obtained with low value accelerations and continuous movement without any vibration.
Accessories
Hydraulic Overload System

Quick (High Flow) Release System
Synchronous Control System
Quick Refill Unit

Cushions

Pneumatic Cushions
Hydraulic CNC Cushion

Ejectors
Die-holder plate Spigot-Wedge
Moving Bolster

Left to Right movement
T-Track movement
Electric Drive (Semi-automatic or Fully automatic)
Pneumatic Drive (Semi-automatic)
Tool Automation Connection
Pneumatic, Lubrication, Electric Utilities Connection
Automatic / Semi-automatic Quick Connection System